5 Life Skills Every College Student Should Learn
A lot of us aren't great at some pretty basic life skills. This was trending on Twitter recently: "What's a life skill you've never learned?"
Some common answers were things like ironing, folding a fitted sheet, whistling, tying a tie and parallel parking.
As so many tweens go off to college, I thought I'd give you the top 5 life skills you should learn to make your life A LOT easier. Trust me... I've done this. At 3 colleges.
Basic Budgeting: Yes, I know that you know that this is important. I'm not saying open a 401K and a Roth IRA. I'm saying learn to stash money away in a savings you won't touch. That way you can hike Europe, pay student loans back when you get out of college with no job, go on an epic spring break, etc.
Basic Nutrition: Living in your parent's house is a pain, but the food was free, always available, and your parents probably made you eat your broccoli. Or, maybe they didn't. Either way, the Freshmen 15 (or 30, or more) is a real thing. The dining halls on campus are full of bad decisions. They also have really good ones too. Learn how to eat healthy, if for no other reason so that when you drink your butts off (Like they won't, parents? Figure it out) you'll be able to consume those calories (which are a lot) and not gain a ton of weight.
How to Cook: This can help with nutrition, but also with money. It really is a lot cheaper to grocery shop (see budgeting). Also though, when you're single people love dating someone who can cook. it's a BIG perk and will only help you.
How to Meet New People: This is tough. But college is full of people you've never met, and full of people you weren't stuck with in High School. Learn to introduce yourself, create quality small talk, and network.Life is so much about networking and so much more than the relationships you had (or didn't have) in High School.
Basic repairs - From changing car tires, to hanging a shelf, to unclogging a toilet, all of these basic repair skills WILL save you time, money and headaches. Plus, single people, everyone likes a handy person. Not just women either.
Want to add to the list? @OnAirPat on Twitter and Instragram
Photo from Getty Images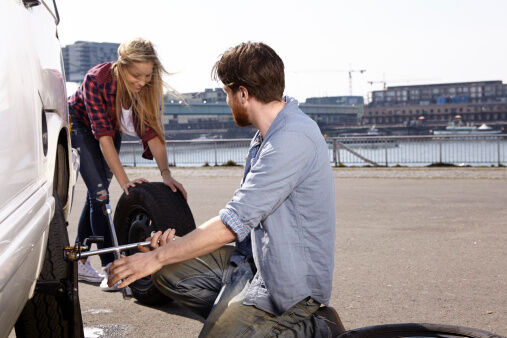 Pat McMahon
Want to know more about Pat McMahon? Get their official bio, social pages & articles on Y94!
Read more